DAB+ digital radio solutions for your BMW
An original BMW DAB systems fitted as per factory
OR Cartronics® DAB option, NO dash extras or remotes
We retrofit BMW digital radios to all models of BMW
Call us for a competitive quote today on 01932 800800
Welcome
---
Welcome to bmwdab.co.uk, an affiliate of Cartonics GB, one of the UK's retrofit specialist, premier quality installers of car audio and other mobile media equipment.
From January 2013 BMW began offering DAB radio as an option on all new models and as standard in some high-end models, including the 7 Series, becoming the first mainstream premium manufacturer to do so. The benefits of digital radio have been compared to the switch over from AM to FM as the preferred medium. For a long time now, a car without a radio has become like a car without four wheels. In a few years, the same will probably apply to digital radio reception. Reason enough for BMW to bring digital radio to their new cars today. If you're happy with the BMW you have now, and would like to get on this next step of quality sound in your car, we are the experts who can help.
We can offer several services for your DAB requirements...
OPTION 1
---
Cartronics® will fit the original BMW DAB systems, fitted as per factory
Firstly we can offer the BMW OEM factory retrofit. This would give you the BMW DAB as if you ordered it from the factory. Depending on car and specification this can be quite expensive, but is still a popular option, so if you're interested send an email to us with you cars VIN number and we can quote for this option.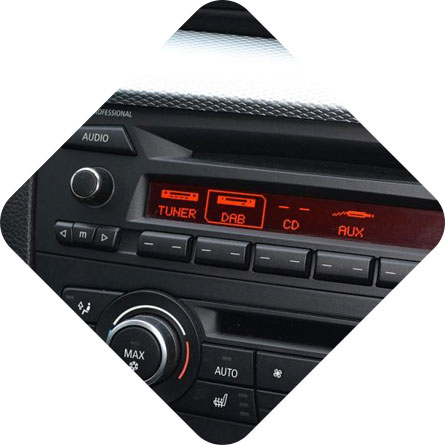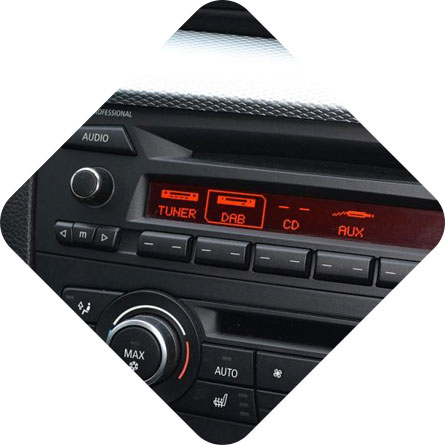 OPTION 2
---
Cartronics® DAB option emulates BMW system, NO dash extras or remotes
Cartronics also now supply a BMW emulation system, this works exactly the same as the factory BMW system with full control and feedback via the I-Drive/Screen or radio installed. No stick on parts, no remotes its flawless, this system is far more cost effective and you can buy the kit and install yourself in some instances.
The CAR-DAB-BMW unit will ship shortly, starting with BMW E chassis cars shortly followed by BMW F chassis cars, register your interest here
The Cartronics CAR-DAB-BMW system can be used with a small discrete window aerial or can be used in conjuction with the BMW DAB hidden factory aerials, we can offer choices once we have checked the specification of your car. Email your VIN number to us with your enquiry.
OUR SERVICE
---
We'll retrofit a BMW DAB (digital radio) to all models of BMW, and as with all Cartronics installations we'll fit it per factory specification, your car will leave us looking as good as when it arrived - only sounding better!
Installation includes the latest software level for the DAB unit (as of install date), we do all installation programming & coding at our Surrey workshop. All BMW factory systems will be as per BMW specification, no issues with dealers of service agents. The Cartronics DAB emulation system is rolling out for E Chassis cars like the E60 shortly followed by F Chassis Cars - See table below. We use all the original BMW parts & amplifiers, but the position of the rear aerial may depend on vehicle and spec option.
Call us for a competitive quote today on 01932 800800
Examples
---
Recently retrofitted BMW DAB Radios have included: BMW Z4, BMW 3 series E93 & F20.
In addition the following models are compatible BMW1/3/5/6/7 series as well as the X4, X5 & X6. See list of example models/chassis codes in the table below.
Cartronics GB in Surrey can retro fit BMW DAB digital radio to all makes of BMW. BMW DAB Radios are retrofitted as per factory specification at our Surrey premises. Cartronics in Surrey are a professional car engineering company with great knowledge of BMW technology. BMW DAB Radios are installed using the latest software, and coding is done in-house at our Surrey workshop. BMW DAB radio installations from Cartronics is affordable and professional. Cartronics in Surrey have retrofitted BMW DAB radios to BMW Z4, BMW 3 series E93, BMW 1/3/5/6/7 series, X4/X5/X6 and can retrofit to other options too. Suitable BMW models include:
BMW DAB FITTED?
E / F Chassis Code
Production
Model
DAB for E60
2004-2010
5 Series Sedan
DAB for E61
2004-2011
5 Series Wagon
DAB for E63
2005-2011
6 Series Coupe
DAB for E64
2005-2011
6 Series Convertible
DAB for E65
2002-2009
7 Series short wheelbase
DAB for E66
2002-2009
7 Series long wheelbase
DAB for E70
2007+
X5 SAV
DAB for E71
2007+
X6 SAC
DAB for E82
2008+
1 Series Coupe
DAB for E83
2003-2010
X3 SAV
DAB for E84
2009+
X1 SAV
DAB for E85
2003+
Z4 / MZ4 Roadster
DAB for E86
2006+
Z4 / MZ4 Coupe
DAB for E88
2008+
1 Series Convertible
DAB for E89
2009+
Z4 Convertible Coupe
DAB for E90
2006-2011
3 Series Sedan
DAB for E91
2006-2011
3 Series Touring Wagon
DAB for E92
2007-2012
3 Series Coupe
DAB for E93
2007-2012
3 Series Convertible
DAB for F01
2008+
7 Series short-wheelbase
DAB for F02
2008+
7 Series long-wheelbase
DAB for F06
2012+
6 Series Gran Coupe
DAB for F07
2009+
5 Series GT
DAB for F10
2010+
5 Series Sedan
DAB for F11
2011+
5 Series Touring Wagon
DAB for F12
2012+
6 Series Coupe
DAB for F13
2012+
6 Series Convertible
DAB for F15
2014+
X5 SAV
DAB for F20
2013+
1 Series hatchback
<
DAB for F22
2014+
2 Series Coupe
DAB for F23
2014+
2 Series Convertible
DAB for F25
2011+
X3 SAV
DAB for F26
2014+
X4 SAV
DAB for F30
2012+
3 Series Sedan
DAB for F31
2013+
3 Series Wagon
DAB for F32
2014+
4 Series Coupe
DAB for F33
2014+
4 Series Convertible
DAB for F34
2014+
3 Series Gran Turismo
DAB for F45
2014+
2 Series
DAB for F80
2014
M3 Sedan
DAB for F82
2014
M4 Coupe
Please note: the above list is not conclusive, if your car is not listed here this does not mean we can not retrofit install digital radio (DAB) into your BMW, please contact us with your requirements.
LOOKING FOR A RETROFIT BMW DIGITAL RADIO FOR FACTORY LOOK?
Call us today for a quote
Cartronics have a DAB option that emulates the BMW system, with no dash extras or remotes